Sometimes I really wonder why I spend so much time in chess. Many people may recall the musty chess scene: old grandpa's smoking a pipe, in deep thought, pondering about their next move. Making their move without any countenance. Games last for ages, and you have no idea where the game is all about. Back in the 60ies, chess wasn't sexy.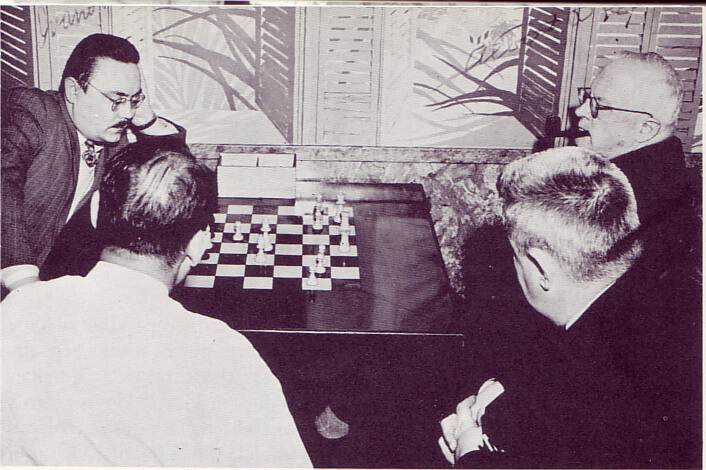 Photo: http://pressblog.org/shrdluChapter14
Of course, Chess has made a transformation since then. In my first experience with chess tournaments, back in the late 90ies, smoking was prohibited in the playing venue. The world's best players earned hundred thousands of Dollars thanks to some big sponsors involved in chess. Many of those players were well dressed: suit, some of them wearing a tie.
Today, in 2013, top-level chess has even transformed to entertainment. Complete tournaments are streamed live on the web, with a half dozen cameras spotting every detail. Magnus Carlsen is the leader of a new young generation which understands how to attract the audience, how to be representative. They are well dressed, keep in shape in the gym and are open for press conferences and media interviews. Carlsen even earned a model contract at G-Star RAW, and thus managed to popularize the game and his own personal brand even more.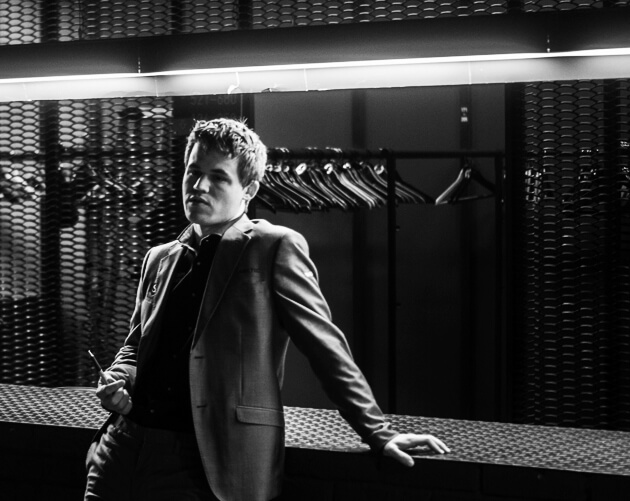 Magnus Carlsen after a loss, waiting for the press conference
In the mean time the World Chess Federation decided on a zero tolerance rule (a minute late in the playing venue: game is forfeited) and a dress code. In my opinion those rules are a bless for professional chess nowadays. Finally, chess can be taken seriously by audience and media. I wish tournament directors of elite tournaments will apply those rules as soon as possible. 
But.. Why am I so disappointed? 
Not everyone in professional chess seems to understand that its behaviour, dress and openness are crucial for the future of our game. We still have to attract more sponsors. This morning I came across this picture from the Dortmund Super tournament, named after its sponsor Sparkassen.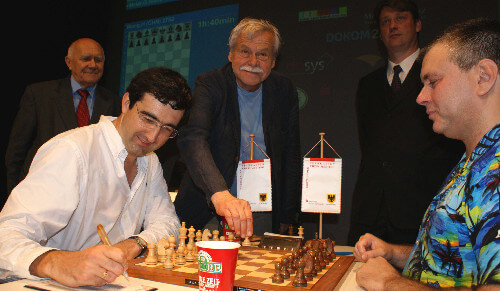 Photo: Dagobert Kohlmeyer
We see former World Champion Vladimir Kramnik playing against German's Igor Khenkin. An arbiter on the left. Chess personality Vlastimil Hort making the first move. Some official on the right. It is obviously meant as a 'photo moment' - Hort looks into the camera.
I've dealt with this red cup, disturbing the photo and covering the central squares, before in a previous article. What really disturbs me... the Hawaii shirt Khenkin wears. 
How to take the guy serious? He never played someone with such a high rating as Kramnik before. He must have chosen this particular game for a protest against the new dress rule. At least, I hope he did choose the out-of-fashion holiday dress for a reason - and not because he doesn't have any normal shirts left. I really wonder if he'd wear short pants and sandals.
However, it is difficult to draw any conclusion. What is fashion, where lies the border between a good and a bad outfit? Do we have to apply rules (only) for top tournaments? Is there any room for my blue or pink dyed hair in top tournaments? There is no judge for every case - and I don't think we need one. 
We need some basic rules, describing those clothes that are prohibited. The FIDE dress code is enough. However, according to FIDE the Hawaii shirt is not prohibited. Most important is to make sure everyone is aware that we cannot tolerate every outfit. In fact most us likes to dress well and to do a bit of personal branding.
Luckily, this Hawaii shirt is an extreme example. Maybe it is just a matter of generations. The young kids around in the top-100 know the trick. They are well dressed. I have the feeling that most 35+ aged chess players have more problems choosing their outfit.
To conclude, I would like to show some other chess professionals. Please bear in mind I have nothing against them. I just want to make my point: we still can improve chess professionalism even further.

GM Dimitri Reinderman (left) just after he won the Dutch Championships by defeating Wouter Spoelman (right, well dressed) in a blitz tiebreak. Reinderman wears a Londsdale polo, a brand criticised in Holland as it is popular among some European neo-Nazis (sure Reinderman wasn't aware of this). No wonder Woman's Champion Lisa Schut got all attention by the media.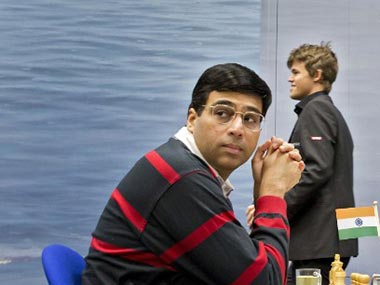 World Champion Anand. His WCh challenger Magnus Carlsen in the back. By the way, Anand never poses for professional photographers before the start of the game.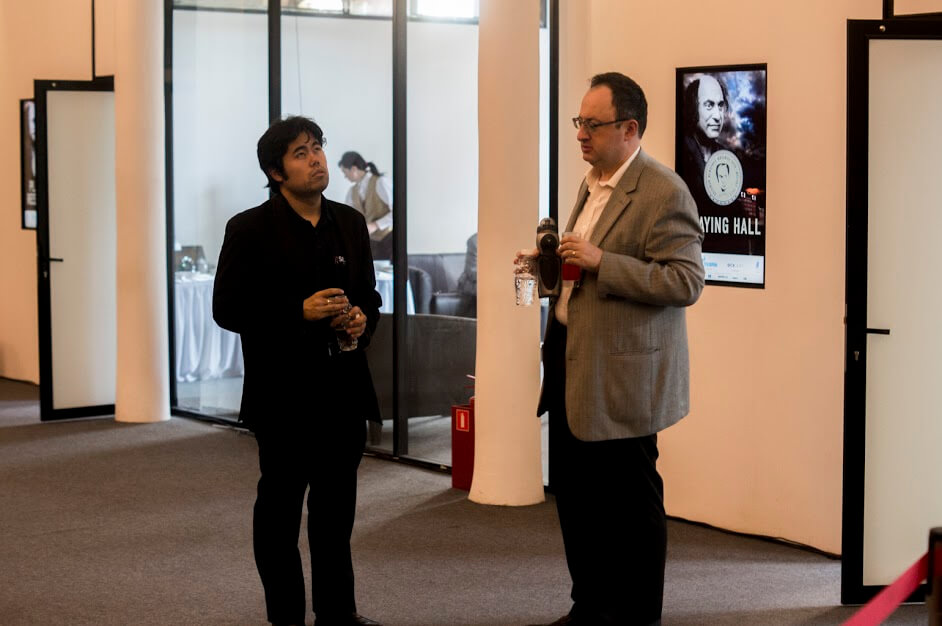 Former WCh challenger Boris Gelfand (right), well known for his high waisted pants and too-long coat. He is one of the few chess professionals being overweighted.

Vassily Ivanchuk is a story on its own. One of the many remarkable stories: 
"Turkish Chess Federation president Ali Nihat Yazici's assistant made the first move in a decisive round 8 match between Russia and Ukraine, however when he moved the pawn there was noone at the table. Vassily Ivanchuk said that he was not going to remain seated as this procedure itself disturbed him while Vladimir Kramnik stood away and was not at the table either."|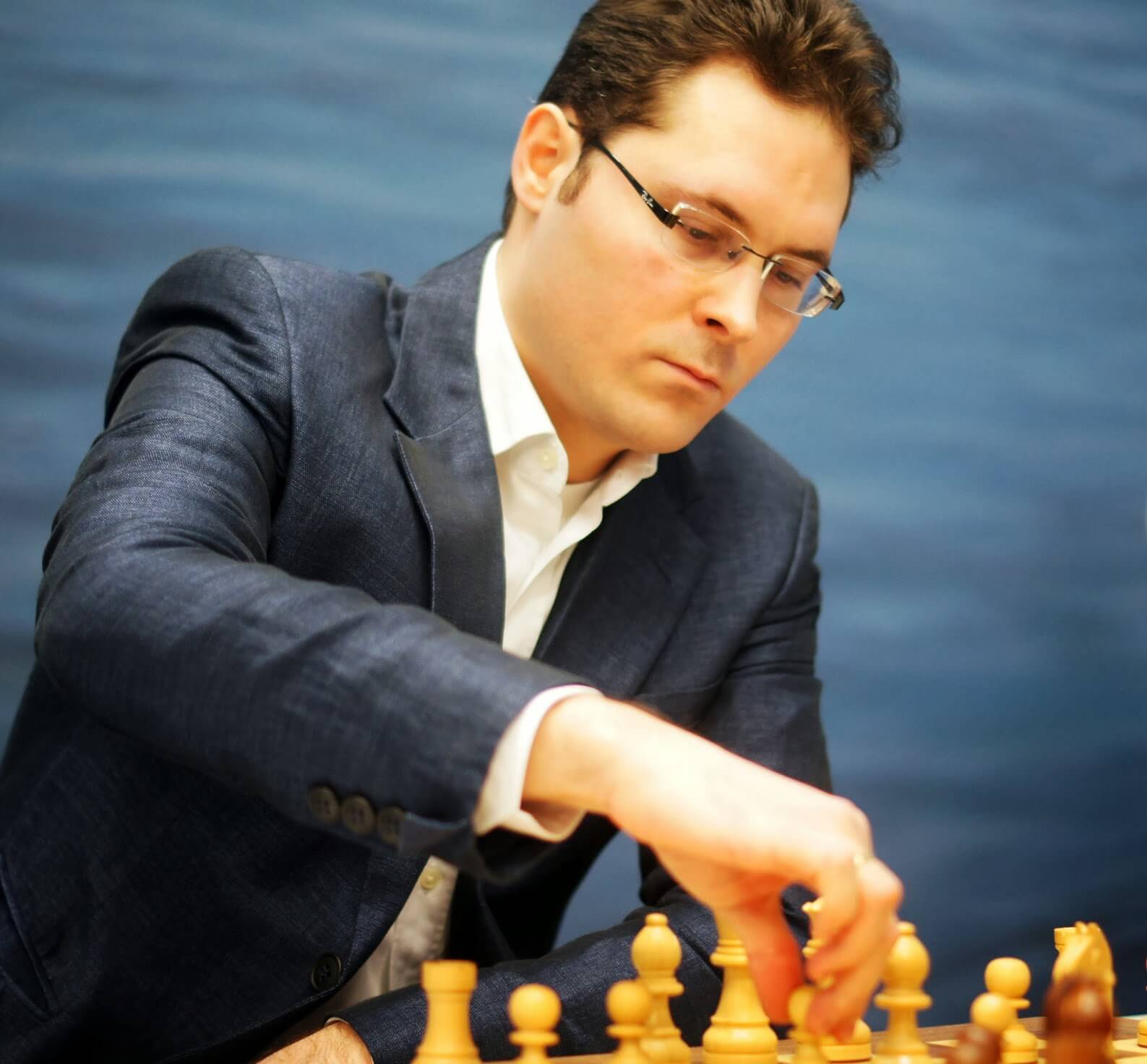 Peter Leko, one of the most fashionable Grandmasters in the world