It was only a couple of years ago when the live transmission of chess tournaments were - lets say -  still in development. Most websites were a mess, live games had some glitches here and there, live video was just starting up and so it was hard to get really dedicated with our beloved tournaments.
And fortunately the technology improved in several ways since then, with accessible live streaming as its main exploit. Almost every top event provides live commentary, the games include computer evaluation and tournaments are active on social media.
In this article I will look at three recent events which have made a major contribution to top level chess - and which inspire me in my work to promote chess events online.
London 2013 Candidates: AGON's ChessCasting
Who doesn't remember the exciting final rounds of the London Candidates, where Magnus Carlsen laboriously managed to qualify for the World Championship match against Anand later that year. Despite his final round loss against Peter Svidler he joined commentator Lawrence Trent after the game in what became a very charismatic and fun interview.
The Candidates were organized by Andrew Paulson's AGON and is in my opinion the most ambitious and progressive tournament that I have ever visited. I think Paulson had a good vision of what's possible with chess promotion and online coverage.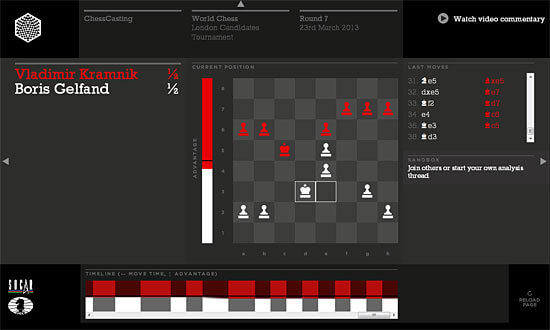 And no, it's not because of the implementation of these strange chess fonts which were unable to distinguish for those who are color blinded. 
Its main trump was the brand new ChessCasting program which was initiated by AGON - the second screen for the chess audience. The app was a combination of:
- live games with an engine evaluation bar.
- game characteristics like king's safety and development were featured in their own evaluation bars.
- live video with analysis commentary.
- player profiles.
- chat/analysis room.
Somehow this sounds like the features of the Chess24 game viewer, but ChessCasting was launched about a year before Chess24 started. Basically ChessCasting was the first program that ever tried to present complex chess moves and analysis in a more organized and clear way. It was the first to implement evaluation bars and percentages to show the evaluation of the position instead of using the too-technical +1.2 or +0.15 engine evaluations, which could only be understood by chess players theirselves.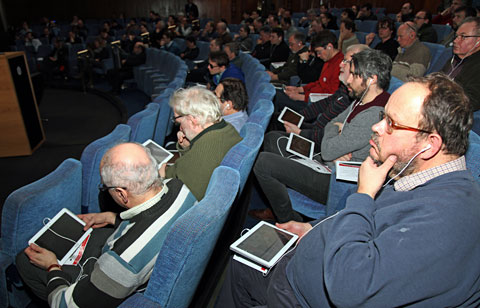 The audience in the playing hall were provided with a Samsung Galaxy Tab running the ChessCasting, making sure they could benefit from the best of the internet while seeing the players on a few meters distance. It was Paulsen's answer to the issue that online spectators would be able to follow the games more closely than the audience in the playing hall.
However, ChessCasting was far from perfect yet. And I remember my disappointment being confronted with ChessCasting in the first round of the event. I didn't like the grey and red colors, of course, but I also expected more features in the app: it lacked proposed moves by the computer engine, there were no player head-to-head statistics, no Twitter integration, no implementation of bio-metrics or opening database, to name a few.
However, articles by two developers proved that Paulsen was planning on huge updates of the software, but the London Candidates simply came too early, and his presence in the chess world didn't last too long either. Links: Dave Steward and After the Flood.
It was only months later when I realized how advanced ChessCasting actually was - it made a huge step in the right direction because:
- A specific app for a chess event.
- An evaluation bar instead of the exact +1.15 evaluation value.
- Smooth integration of the games, video, player profiles and chat in one program.
- Providing an internet experience to the on-site audience.
It's a shame that ChessCasting only got one event to prove itself. There were so many new ideas on the shelf, and to date nobody has ever used them. Too bad, with so many computer nerds around in the chess world, cause we need to make chess more accessible for the non-chessy audience.
 
2013 World Championships: Magnus Carlsen became a star
During and after the 2013 World Championship match in Chennai a superstar was born. Magnus was booming. Every move was followed by a large percentage of the Norwegian population on the various TV channels and via the Internet. Major companies had to block the live streams to make sure their employees would be more productive during the games, chessboards were sold out over the entire country and many youthful chess fans wanted nothing more than to become the new Magnus Carlsen.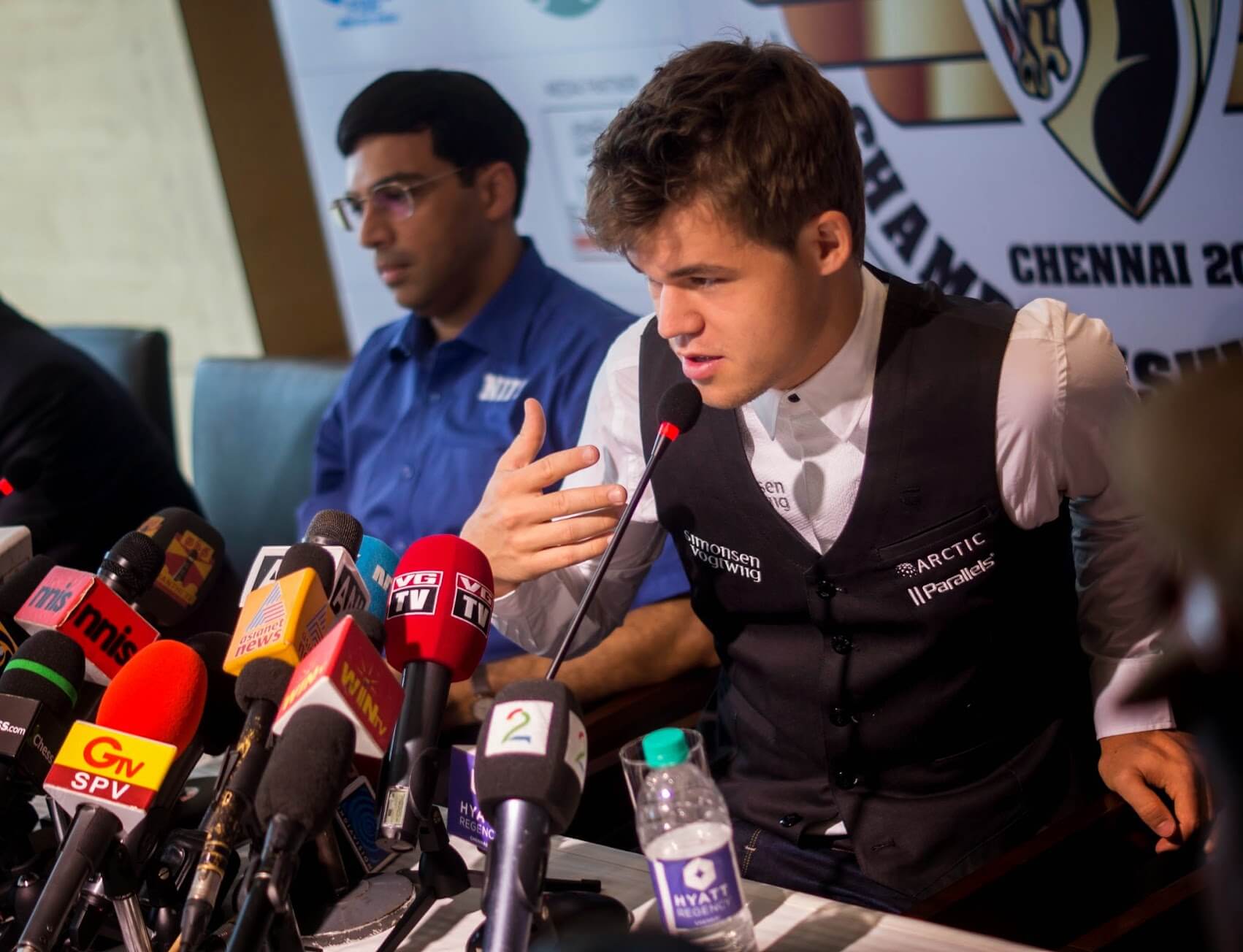 Such a success doesn't come by itself. His management must have worked hard to position his status and to convince major companies to come onboard and to invest in Magnus and chess in general. It resulted in dinners with Mark Zuckerberg, international TV shows (like playing Bill Gates) and attending sponsor events.
The Magnus Carlsen company must have invested a lot of money to develop and promote their Play Magnus app, one of the best chess apps available. Norwegian TV broadcasters produced live shows around Magnus' appearance at top level events, resulting in hundreds of hours of TV footage. Magnus' sponsor VG even received international awards for their campaign to promote their live coverage of the World Championship Match, which led to a huge increasement of their readerships. The VG case is explained in the following video: 
 
Magnus' success makes you wonder about the popularity of the other top players. The Norwegian has about the same number of Twitter followers (103.000) as Anand, Caruana, Nakamura and Giri together, while his Facebook page is even three times bigger than his Twitter profile.
Magnus' media appearances used not to be spectacular at all, he even got quite some criticism left and right - however I think he really improved in 2015 tho! 
But, looking at self promotion, is the gap  between him and the other top players really that big? It is in terms of sponsorship, visibility and popularity. Is it a lack of vision among these players, as Magnus is the only one supported by a great management team? Or does the status as the World Champion really count? Fact is that he's from a small country without major sport champions, but that wouldn't explain his appearance in the Time's 100 Most Influential People in the world. In any way to me it's great that Magnus is our World Champion: he is a great ambassador for our game. We could only wish other chess players would follow his steps to the big numbers.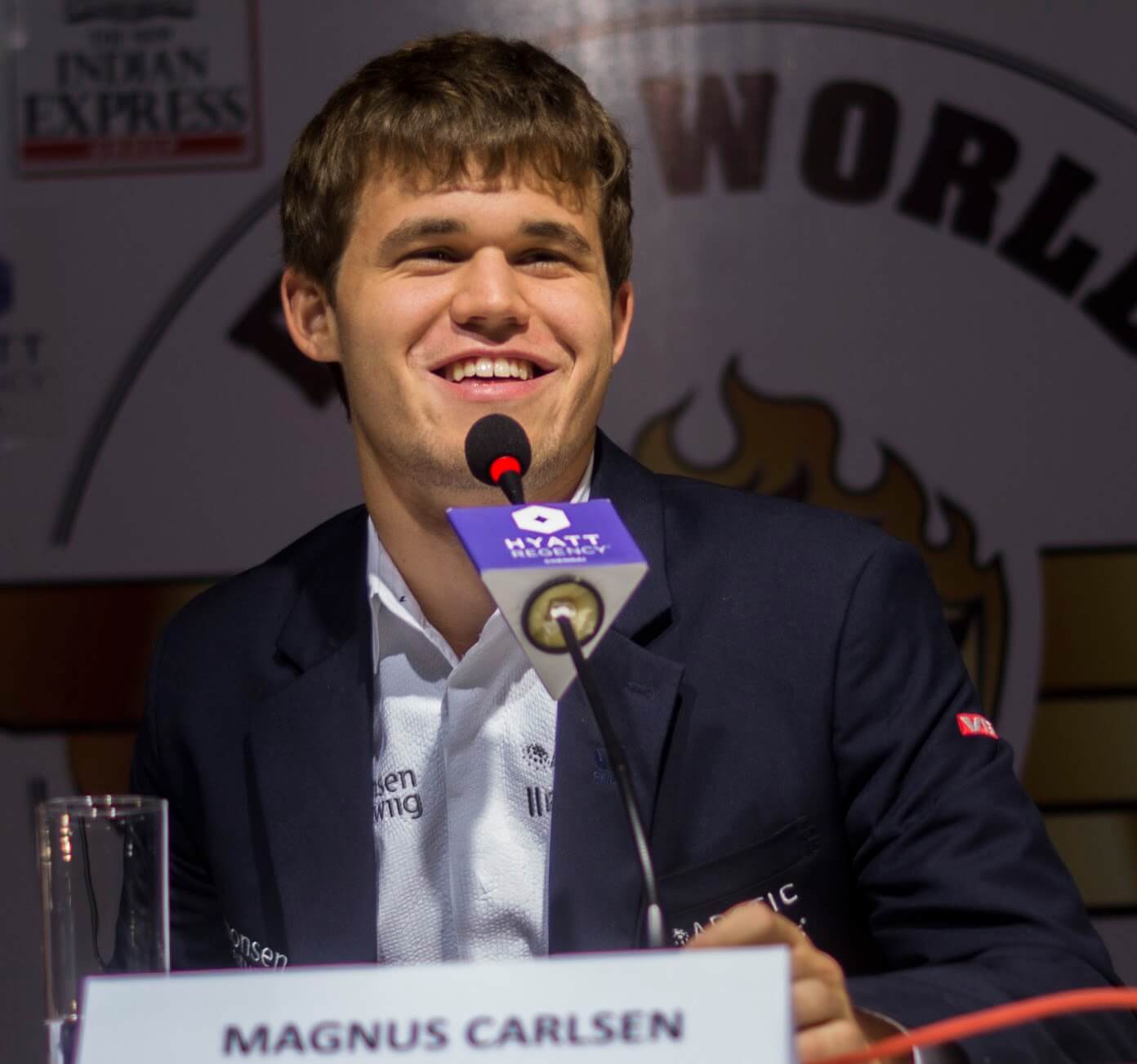 2014 Millionaire Chess
It's a dream to reintroduce chess to TV - a medium that recently made poker and is equivalent to gaining sponsor attention. But what is the ideal format to bring chess on TV? How can a many-hour lasting game of chess attract a large audience? How to make a Swiss paired tournament exciting?
Millionaire Chess Tournament's co-organizer Maurice Ashley took a major step with the following concept:
- The tournament's final is a blitz match with big cash prize on stake.
- To prefer the delay clock over the Fischer increment, which, not to make it too technical, results that players can not add time to their reduced clock situation by making some fast moves.
- To start the live broadcast only after two hours of play, eliminating the pretty dull opening stage.
- Spectacular live broadcast with many improved details, like studio lighting and to focus on the player's emotions during and after the game.
- The use of statistics as a base for the live broadcast.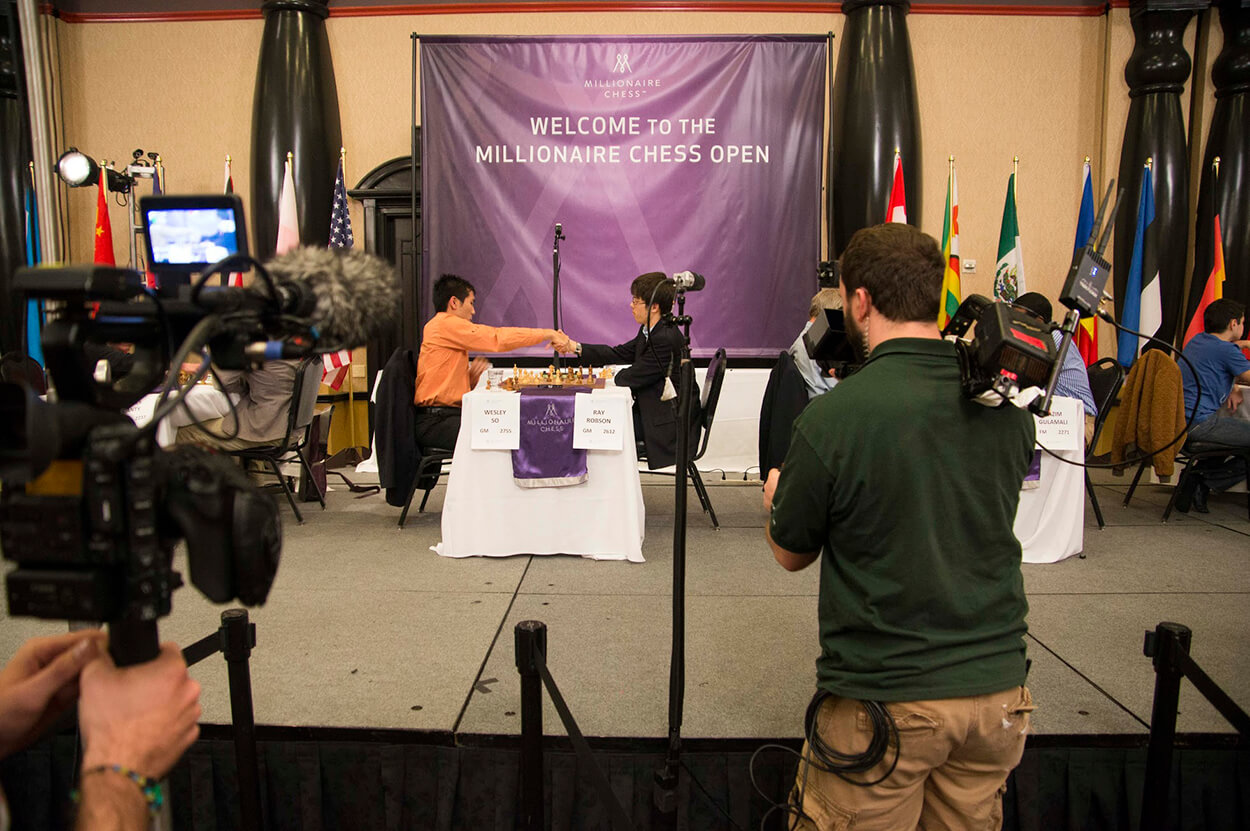 It's of major importance that organizers try to find ways to promote chess to a broader audience, and to change the format of their events to attract sponsors or TV coverage. Ashley understood casual chess events have to reshape in order to attract the mass, and I'm looking forward to fellow organizers to follow.